Sleepwise–Interactive Table
Role : Motion Designer, Animator, Fabricator
Credits–
Motion Design: Nitcha Tothong
Software Devolopment: Henry Lam, Luobin Wang, Eric Jiang
Project Management: Yunfei Xiang
Created at Anyways, Here's the Thing
Client: The New School, Panasonic
The Sleepwise interactive kiosk at SXSW 2017
A team of designers from Parsons School of Design, The New School asked us to create an engaging touch-screen experience for demoing their concept design gadget: SLEEPWISE, a smart sleep assistant. As this piece of concept design would be featured at SXSW 2017, as a collaborative effort between The New School and Panasonic to rethink the future of smart gadgets, our goal was to help the team communicate their ideas to the large audience during the festival through an interactive and fun way.
In order for the participants to get a bigger picture behind the current non-interactive early prototype of SLEEPWISE, we made the physical object of SLEEPWISE prototype becoming a part of the touch-table based interactive experience, and a special layer of conductive materials added to the gadget. Thus, the product can be treated as a touch point on the screen which enables us to further create touch experiences around the shape of it.
In the end, we delivered an engaging touchtable experience that sensed the gadget when it's been placed on screen, and aniamted narritives gradually walked participants through the concept and all information about this design.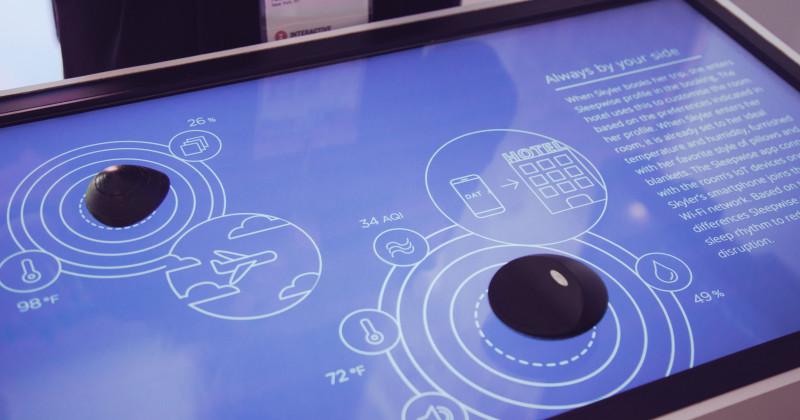 The 3D print of the Sleepwise Prototype using conductive filament to trigger animation narrative.
Documentation of prototypes and the final product