Plastic Bird – Sirintip
Role : Director
Credits

Director: Nitcha Tothong(fame)
Screenwriters: Nitcha Tothong(fame), Sirintip Phasuk
Executive Producers: New York Foundation of the Arts, Sirintip Phasuk
Producer: Phapfun Watcharasombat
Director of Photography: Derek Siyarngnork
First Assistant Camera: Ackrawin Rungruangviechakul
Set Director: Suphitcha Donsrichan
Talent: Sirintip Phasuk, Maia Schechter
Choreographer: Winnie Asawakanjanakit
Gaffer:Natt Siritanapivat
Gaffer 2: Thitipol Samuttha
Costume Designer/Wardrobe: Darunee Jaroonrueng
Hair and Makeup: Wutthipong Khrueawan
Hair and Makeup Assistant: Kritwamornpan Nairong
Editor: Krint Thitawattanakul
Colorist: Tuchtram Thientawach
Art Director: Nitcha Tothong
Special Effects and Animation: Nitcha Tothong, Suphitcha Donsrichan
Runner: Brick Thana, Chutima Kaolerk
Production Assistant: Kengchakaj Kengkarnka, Nolan Byrd

Special Thanks - Tyler Henry, Jirat Sompakdee, Luobin Wang, Julphan Tilapornputt, Marasee Tontandiew, Phai Choeiklintes, Pearl Foong

With support from - The NYC Women's Fund for Media, Music, and Theatre by the City of New York Mayor's Office of Media and Entertainment in association with The New York Foundation for the Arts
________________________________

Music by Sirintip and Nolan Byrd
Lyrics by Sirintip and Katya Diaz
Produced by Sirintip & Nic Hard
Engineered and mixed by Nic Hard, Sirintip, Alex Hahn & Michael League
Mastered by G & J Audio

Vocals, Vocal effects, Vocoder, Plastic Trash Percussion Programming - Sirintip
Flute - Alex Hahn
Moog One, Piano - Kengchakaj Kengkarnka
Electric Bass - Michael League
Drums, Plastic Water Jugs - Nolan Byrd


↗️ behind the scene shot by Brick Thana
For the music video I want to create the video to be emphasized the feeling of imposter syndrome in very intimate and humane views through visuals and show the struggles of the different protagonists as they experience and go through it in their world, in which metaphors into closed-rooms. The rooms are blue and polluted; the perceptions are distorted.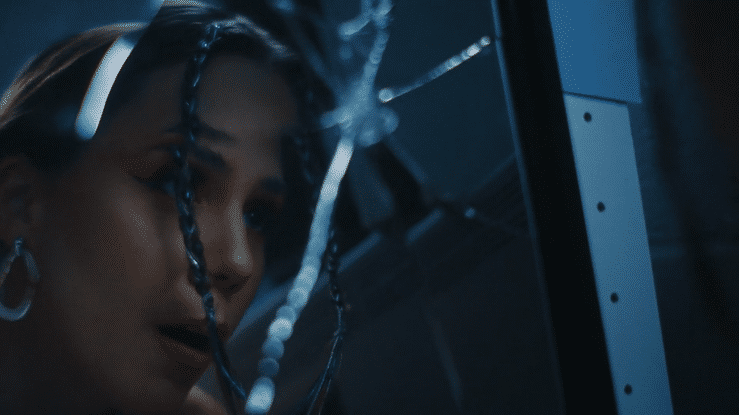 The setting seems like nighttime; at night is when the procrastinator did not satisfy their day, and all the thoughts and questions haunt them, 'am I good enough?', 'what if they see through me?' they cannot sleep.
The 'plastic bird' is also used as an on-screen display in synthetic form as a perfect bird within screens; we also see another woman on that screen who looks perfect from afar, moving perfectly. The symbol develops from the original Sirintip's idea of a bird toy as an unreal bird.
In another room, the perfectionist tries to perfect their move. Tiring of the repetition, 'Nowhere to go.'
When the two-room connect, the two protagonists see each other, which shifts their perspective at the end. The choreography has been designed specifically to the pace, rhythm, and body language as they support and help each other.
↗️ behind the scene shot by Thitipol Samuttha
↘️ behind the scene shot by Brick Thana