Between Spaces
Role: Art director, 3D Modeler, Graphic Designer

Between Spaces is the theme of thesis show at the Master of Fine Arts in Department of Design and Technology at Parsons School of Design in 2016. We created the typography, and the visual indicated the idea of in-between, analog and digital, old and new, 2-dimension, and 3-dimension, between dimensions. The typography created from analog slit-scans to extruded and distorted in 3-dimension shape plays with the idea of the between.

The design lived across mediums from a theatre screen, Photo Portrait, letter design, to newsprint. I worked as a lead designer and art director, creating Visual and Identity design, and content strategy for the annual thesis show.
→ Between Spaces Newsprint, including all descriptions of all almost 100 projects and series of 4 risographs that have all show programs, in formations, and maps for each event.


↓ Photo Portraits of all designers, developers, and artists that exhibit in the show, shot in color light style red between and blue. We also created a moving rigging to capture stereoscopic moving images.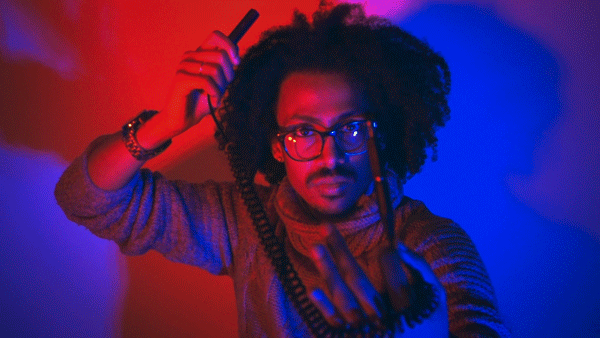 Credits
Creative direction and Visual design: Nitcha Tothong, Chuck Kuan, Eric Jiang
Animated identity: Nitcha Tothong
Glitch filter: Hang Do Thi Duc
Pamphlet layout and Postcard design: Chuck Kuan , Charles Saidel
Map design and email invitation: Sarah Page
Photoshoot: Nitcha Tothong, Hang Do Thi Duc , Shakti Mb
GIF for photoshoot: Shakti Mb, Nima Behravan
PR & Social Network: Umi Syam, Eric Jiang, Karen Mercado Campos
Website: Hang Do Thi Duc, Umi Syam
Team: Nithya Asokan, Ralph Moreau
Full Credits / Website